Click here for mobile friendly list.
Some of the walks require booking so please don't delay booking to avoid disappointment. Whilst it will say "Pay with PayPal", you don't need a PayPal account – you can pay via credit or debit card.
Please note that we do not provide refunds should you wish to cancel. In addition we do not hold or administer waiting lists for these events. If you can no longer attend an event, you could sell or give away your ticket to someone else. A good way to advertise this is through the Bollington Facebook page or the Bollington Walking Festival Facebook page.
Bowstones and Canal Boat (7 miles Energetic)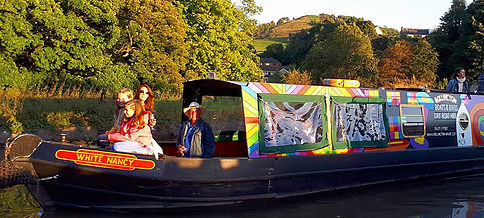 Novel event where half the group walk over to Bailey's Trading Post via the Bowstones, returning via narrowboat. The other half start on the boat and do the reverse. Return about 3pm. Advance booking and payment of £5 essential.
Organised by the Bridgend Centre.
Online ticket sales for this event are closed.
Forthcoming walks & events: