To avoid disappointment, please sign up to our mailing list so we can keep in touch with you if the situation around Covid-19 changes at short notice.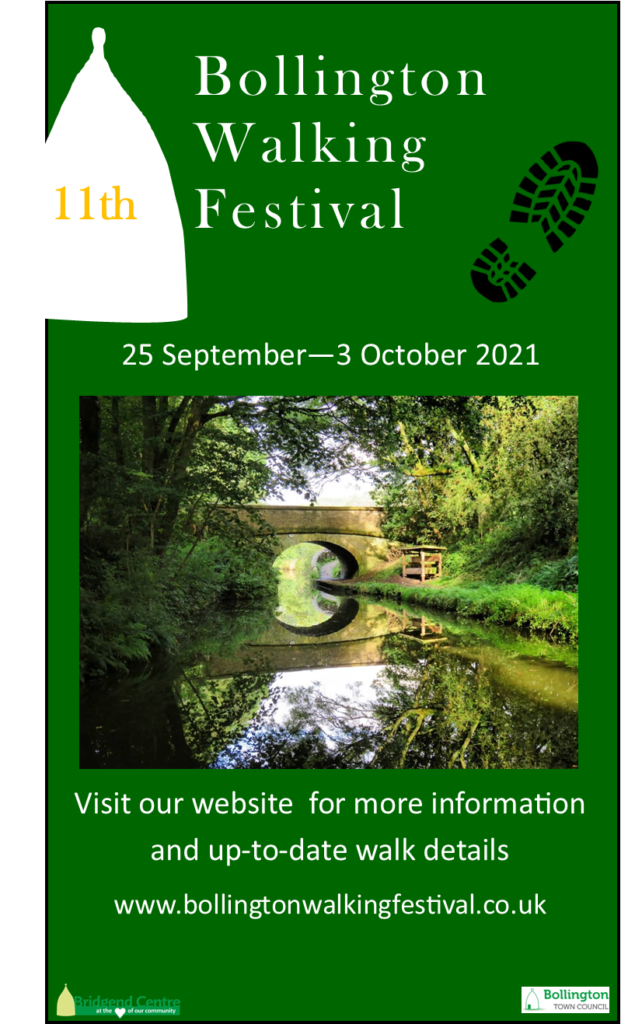 Welcome to Bollington's 11th Walking Festival! Once again we have a great programme of walks – just under 30 this year, covering all abilities and ages.
After a break in 2020 we are glad to say we have maintained our partnerships with local walking groups and local organisations. Walkers are Welcome continues to extend a hand of friendship to all who visit Bollington.
The walks calendar is available now! You will be able to access the information on our calendar here on this website, download a printable leaflet, or obtain a printed leaflet from the Bridgend Centre.
The walks are led by a number of local organisations; there is a charge for some walks, which are indicated by a £ symbol on the walk programme. Where booking is not required for a walk, we just ask you to arrive in plenty of time.
Where advance booking is required, simply reserve your place by purchasing your ticket on our website www.bollingtonwalkingfestival.co.uk. For the Sensory Walk please telephone the Eye Society (phone number on the programme). If you would like any support with online booking, please contact the Bridgend Centre on 01625 576311 to arrange a convenient time for us to help you with it.
Please note that all walks and events are listed in good faith but will be subject to the government's Coronavirus guidelines as they stand at the time of the festival. Our overriding concern is the safety of all those involved. Please check our website regularly for the most up-to-date information on how things are being done. At the beginning of each walk we will be asking you to provide a contact telephone number for NHS Test and Trace purposes or to check in using the NHS Test and Trace app.
In the meantime, don't forget there are a wide variety of walks run by the Bridgend Centre in Bollington on Wednesdays, Saturdays and in the evenings. You can check our website and socials for updates and news on new walks and events. www.bridgendcentre.org.uk